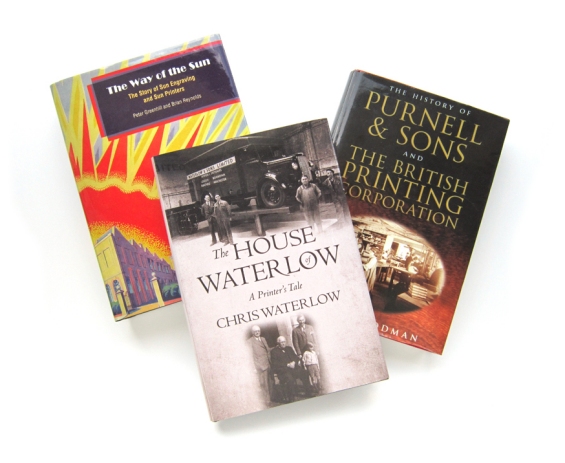 There is always a story behind each edition of the Radio Times from the first germ of an idea to the final delivery to the newsagent. Some of the more interesting of these have been covered in Tony Currie's book, The Radio Times Story, but many are fairly mundane and 'run of the mill' so will never be told. This seems to apply to the printing, with only a few details readily available, but there is a huge and fascinating story.
To my knowledge there is no one book that covers the whole story of the printing history of the Radio Times, but the above three do give some insight into different aspects of the printing history.
The Way of The Sun is actually the story of Sun Printers. They didn't print the Radio Times until the late 80s and 90s by which time they had been absorbed into the huge empire of Robert Maxwell, but Rembrandt Photogravure, however, did print the Radio Times Television Supplement in 1937, and Rembrandt were absorbed by Sun. Much of the history of 'the Sun' will reflect that of Waterlow and Sons, with similar printing techniques used, commercial pressures encountered, and ultimately the same fate of becoming part of BPC and then Maxwell Communications. It is a fascinating and detailed read and it is sad to think there is very little left of what was once and huge and bustling concern. Enquiries can be directed by email or via telephone (UK: 01 923 227 945).
The House Of Waterlow is a history of the family of printers who, in 1937, won the contract to print the Radio Times and did so from a purpose built factory in Park Royal (and later East Kilbride) until the 1980s. The Radio Times was only a small, but significant, part of the business though, and this book covers far more - the rise from humble beginnings, the internal squabbles, a major scandal, and ultimately the decline experienced by most printers as techniques and working requirements changed. This can be ordered directly from the author.
The last of the three covers Purnell and Sons, the Devon printers who took over Waterlow and Sons in the 1960s, and went on to form the British Printing Corporation, which was taken over in a dawn raid by Robert Maxwell in the early 80s. Experiences again seem to be similar, and this book offers a further angle once Maxwell had taken over BPC. This was printed some while ago and secondhand copies to crop up from time to time.