Happy birthday to you, happy birthday to you. Happy birthday dear RT, happy birthday to you.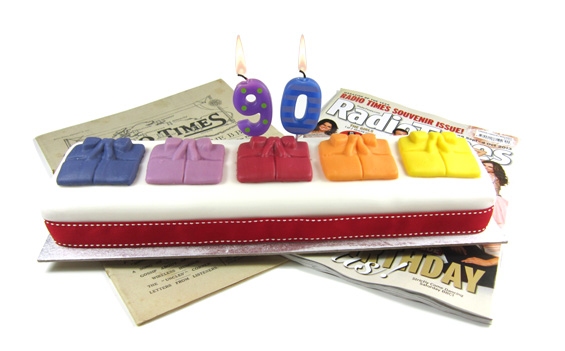 On the 28th September 1923 THE OFFICIAL ORGAN OF THE B.B.C. was launched, with the Director of Programmes, Arthur Burrows, saying 'Hullo, everyone' and presenting 36 pages gossip about artistes, wireless humour, letters from listeners, technical articles and, of course, programme listings.
All six of the BBCs broadcasting stations were detailed in the first issue, and for many issues to come, and colour wouldn't arrive at the journal until Christmas, but then, as now, it immediately became a constant companion to anyone with a radio (and later on television) set.
I wonder if Reith, when he first decided that the BBC should have its own publication, and cocking a snook at the newspaper proprietors who wanted him to pay to 'advertise' his programmes, ever thought that the BBC would make it to the grand old age of 90, let alone its listings magazine. It has, and still prospers in a devolved listings environment with a circulation of around 1 million.
One thing is for certain, the cake pictured won't be lasting 90 years, or even 90 minutes, and as soon as the candles were out, so was the knife. Long may the Radio Times continue, and hopefully in ten years time we will be able to celebrate a full century.
---
It has adapted to the many changes in broadcasting during its nearly 90 year lifespan, and has embraced new services as they arrived.
This site is intended to provide a general overview of that rich history and cover some areas in much more detail.
It overlaps with the BBCs own site covering their history and you are encouraged to take a look there, but not before you have explored this one a little more.