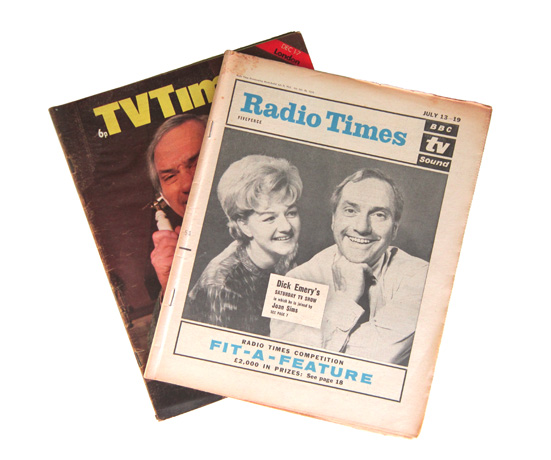 It is curious that despite a career at the BBC that spanned three decades, I can only find one appearance of Dick on the cover of the Radio Times. It is even more surprising that even though he only worked briefly on ITV at the beginning and end of his career, the TVTimes matches the number of appearances, and that was more by chance as it was for the Royal Variety Performance which alternated between the two broadcasters. Obviously Radio Times covers weren't as personality driven in the 60s as they are now, but the trend had started by the height of Emery's fame in the 70s, that said, even Morecambe and Wise and The Two Ronnies only ever got a handful of covers each (often sharing at Christmas), so perhaps TV variety's turn for a cover never coincided with his show.
Richard Gilbert Emery, known to the British public as Dick, was born 100 years ago today (19th February) to parents who were seasoned stage performers who encouraged his inclusion in their act as he grew up. He had a fine tenor voice but his natural talent for comedy paved the way to variety rather than opera and during WWII he joined the RAF and found himself a valued member of Ralph Reader's Gang Show. On demob, like so many others, the Windmill Theatre was his training ground in civvy street, but it was radio that offered his breakthrough appearing in Education Archie from 1956, and transferring to ITV with it in 1959.
A year later he had changed services and was now in the Army Game as Private 'Chubby' Catchpole for the final series of the show that had already made household names of Charles Hawtrey, William Hartnell, Bernard Bresslaw and Alfie Bass, but it was Michael Bentine's It's A Square World where he could really work on the character comedy that would define his career.
By 1963 he had his own show – The Dick Emery Show - where he could develop his style, the characters, and the catchphrases that became imprinted into the national psyche. Characters included his favourite, Lampwick, the loveable old dodderer with an eye for mischief, Mandy, the man-eating peroxide blonde whose catchphrase 'Ooh you are awful, but I like you' is still occasionally quoted by those who probably have never seen a Dick Emery Show, the uptight spinster Hettie, the buck-toothed vicar, and College, the genteel, self-educated tramp.
Apart from two variety specials made for Thames in the early 1980s, he spent his entire television career at the BBC, and his final work, a light-hearted thriller called Jack Of Diamonds was postponed due to his death and broadcast posthumously.
Whilst this and the previous series, Legacy Of Murder, were a departure from the comedy variety show he was normally associated with, they were not the straight drama that he had set his sights on.
Much of the comedy was of its time and repeats and compilations have been sparse compared to contemporaries such as Morecambe and Wise or The Two Ronnies as have commercial releases. Even satellite channels have seemed reluctant to pick up the shows, so Emery himself is probably unknown to anyone under 30, even if Mandy might be instantly recognisable.
To celebrate to 100th anniversary of his birth his son Nick and Georgy Jamieson, a freelance writer, will be using the hashtag #Emery100 on Facebook and Twitter and asking people to post favourite catchphrases, You Tube links to sketches or even dress up as the characters. They will also be interviewed on BBC Radio Tees after 2pm on the John Foster show.
Dick Emery died 2 Jan 1983.
---
WALTER FULLER: THE MAN WHO HAD IDEAS, Letterworth Press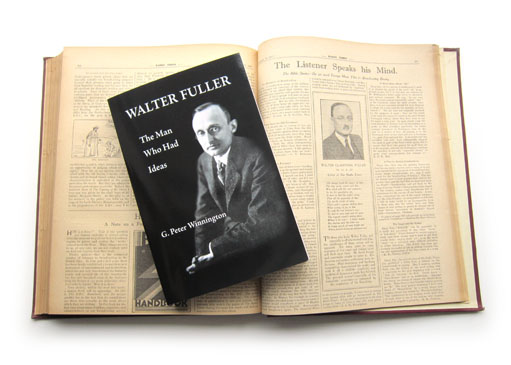 I was fortunate to be sent a copy of this fascintating volume covering the life of the second editor of the Radio Times, Walter Fuller and his family. I make a point of mentioning the latter as his life is heavily intertwined with his sisters, so the majority of the book reads more like 'The Fullers' than just a biography of the man himself.
Sadly, his untimely death means that for those who are interested in his short time at the BBC and Radio Times in particular, it is only really the last couple of chapters, a small part of the book, that will hit the mark.
A very in depth, and academic, read, I have to confess that when I originally tried to fit in reading the book in short snatches it was easy to get lost amongst who was who and who did what, that I quickly went back to the start and set aside quality time for it. This isn't a complaint about the book, but more an observation that most books these days are aimed at an audience with little attention spans, and something a bit meatier can be a jolt.
As I say, the first two thirds of the book, whilst interesting in its own merits, covering the Fuller Sisters touring America to sing the folk songs they collected and researched, World War I and the peace and propaganda movements, and Walter's not insignificant contribution to both, is only a sideline to the story that readers here will be interested in, but it is well worth spending the time to get to know the man, his almost limitless ideas (hence the title of the book) and his ideals, as they are what made his contribution to Radio Times something special in its formative years.
New technology has also been embraced with this publication, as much more than could be included within the covers is available on the associated website, and I found myself flitting between the printed covers and the web.
For those of you unsure about buying, you can readily access the web based material, read the first 20 pages, browse the index and more.
I like to think of myself as an authority on the history of the magazine, but the research behind the book has been so thorough that there are items new to me. Highly recommended.
---
The Radio Times has been a constant companion to those listening to the radio or watching television since September 1923.
It has adapted to the many changes in broadcasting during its nearly 90 year lifespan, and has embraced new services as they arrived.
This site is intended to provide a general overview of that rich history and cover some areas in much more detail.
It overlaps with the BBCs own site covering their history and you are encouraged to take a look there, but not before you have explored this one a little more.